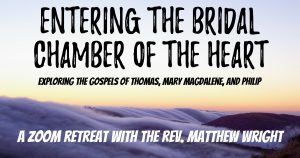 Dear Wisdom Community,
Interested in an introduction to (or a refresher on) the Gospels of Thomas, Mary Magdalene, and Philip? If so, join us for a three-day online romp through these "Luminous Gospels"—next week! We'll be gathering twice a day at 10:00 and 2:00 EDT, Tuesday-Thursday, 6/9-11. These three Wisdom Gospels came to light in the mid-20th century and give us new insight into the development of early Christianity, the metaphysics undergirding Jesus' teaching, and the apostolic authority of Mary Magdalene.
We'll begin by exploring Jesus as Master of Wisdom and Master of the Heart, and then unfold that vision Gospel by Gospel. Used as essential texts within our Wisdom School community, these gospels offer a coherent and luminous map of the journey from timelessness into time, and finally into integration and conscious union–a journey that unfolds within what Jesus calls "the bridal chamber" of the human heart.
How does one become a "complete" or "fully" human being? What is the "kingdom of God"? How do we awaken the heart? Come join us as we ask these questions, chant, pray, and learn together.
If you'd like to join, please register through the following link. There is a suggested donation of $90 for the three days, or $15 per session—but please note that this is truly a suggestion and everyone is invited to donate what they are able.
Register online here: https://holycrossmonastery.com/events/luminous-gospels/
The Reverend Matthew Wright is an Episcopal priest, retreat leader, and long-time student of Cynthia Bourgeault. He serves as priest-in-charge at St. Gregory's Episcopal Church in Woodstock, NY and as a teacher for Northeast Wisdom and the Contemplative Society, non-profits dedicated to the renewal of the Christian Wisdom tradition. Matthew and his wife, Yanick, live alongside the brothers of Holy Cross Monastery.