Our 2020 Wisdom Council

Northeast Wisdom is governed by a seven-member Wisdom Council presently consisting of Marcella Kraybill-Greggo (President and Co-chair), Bethlehem PA; Matthew Wright (Vice President and Co-chair), Woodstock NY; Mary Ellen Jernigan (Treasurer), Hanover MD; Cynthia Bourgeault, Eagle Island ME; Laura Ruth, North Middlesex VT; Bob Sabath, Mt. Rainier MD; and Jeanine Siler-Jones, Asheville, NC. All council members are active participants in the Wisdom work.
The October 2020 Northeast Wisdom—soon to be Wisdom Waypoints—Council
Cynthia Bourgeault
Cynthia Bourgeault is an Episcopal priest, writer, and internationally known retreat leader. She is the original creator of the Wisdom School and has been organizing and teaching schools since 1999. Founding director of Northeast Wisdom/ Wisdom Waypoints, The Contemplative Society and The Aspen Wisdom School, Cynthia is also a core faculty member with James Finley and Richard Rohr of the Living School of the Center for Action and Contemplation. Cynthia divides her time between Wisdom teaching, writing, and solitude, both at her home in Stonington and her remote hermitage on Eagle Island, Maine.
For more about Cynthia go to Wisdom Waypoints Meet Cynthia Bourgeault, or to her Cynthia Bourgeault website.
---
Matthew Wright
Matthew Wright is an Episcopal priest, writer, and retreat leader working to renew the Christian Wisdom tradition in a wider interspiritual framework. He serves as priest-in-charge at St. Gregory's Episcopal Church in Woodstock, NY and is a teacher for Wisdom Waypoints and The Contemplative Society as well as being a founding member and co-chairperson of the Northeast Wisdom Council. Matthew is also a student of the Mevlevi Sufi tradition under the guidance of Shaikh Kabir and Camille Helminski. He lives with his wife, Yanick, alongside the brothers of Holy Cross Monastery in West Park, NY.
For more information about Matthew check out his website: A Waking Heart: Reflections on the Spiritual Life.
---
Marcella Kraybill-Greggo
Marcella Kraybill-Greggo offers her time as a Seminary Director of Spirituality Programming, a local Wisdom Community facilitator, a Spiritual Director and a mom. She lives in Bethlehem, PA with her husband, pre-teen daughter, and their Westie, Kiwi. She has been an active participant in the Wisdom community since 2013, both as student and teacher, assisted in facilitating multiple Wisdom schools, regularly offers an 8 month 'Training in the Practices of Wisdom', facilitates Law of Three midwife groups, and loves all things embodied (trained as an InterPlay facilitator). She joined the Wisdom Waypoints Council in 2017.
For more information check out Marcella's Profile on this website.
---
Jeanine Siler Jones
Jeanine Siler Jones works primarily as a private practice therapist, spiritual director and Enneagram teacher. She lives in the country outside of Asheville, NC with her husband and next door to her parents and brother's family. She has been an active participant in the Wisdom community since 2009, both as student and teacher, and assisted in facilitating multiple Wisdom Schools in the Southeast. Jeanine's steady hand has helped co-create a number of Wisdom Waypoints and Wisdom Community projects and ongoing groups, supporting newcomers and leaders. She joined the Wisdom Waypoints Council in 2020.
For more information about Jeanine, see her Wisdom Waypoints Profile and her website: Siler Jones Counseling.
---
Bob Sabath
Bob initiated Cynthia's Fourth Way Wisdom Retreats at the Claymont Center in West Virginia in 2010, having been part of a Fourth Way community since 2006. He worked with Richard Rohr to host ongoing wilderness based men's retreats and is a Convener carrying on that work locally through Illuman. He has lived most of his life in community, as a founding member of Sojourners, Circle Community Church, Rolling Ridge Study Retreat Center and Shepherd Village. Web master at Sojourners, Friends of Silence and Wisdom Waypoints, Bob has brought his technical expertise and experience to bear creating the new Wisdom Waypoints website.
Bob lives in Mt. Rainier Maryland with wife Jackie, and has two children and six grandchildren; being Grandpa is the delight of his life; read more about Bob here in Calling the Helpers.
---
Mary Ellen Jernigan
A committed Catholic laywoman, Mary Ellen has devoted her life to the Jernigan Institute and National Federation of the Blind as Policy Advisor and administrator par excellence for over 35 years. She continues her work at the National Center for the Blind, which was established in 1978 by her beloved, husband Kenneth Jernigan, who blind himself, was for many decades, the principal leader of the organized blind movement until his death in 1998. Mary Ellen has brought her skillful means to the Wisdom Waypoints Council as Treasurer since 2017, serving on the website committee and taking the lead on all things legal and structural. Mary Ellen was an early participant, beginning in 2009 in Cynthia's Wisdom Schools, including her six-month course, 2011-2012.
Mary Ellen lives in Baltimore where she and Eileen Clark, also an early Wisdom student, share a home and daily contemplative practices, and have led Wisdom book study and practice groups for many years.
---
Laura Ruth
A lifetime of spiritual study and practice led Laura to Cynthia, and the co-facilitating of retreats at Hallelujah Farm for five years. Trained in Steiner biography therapy and human development, dream work, and a former Waldorf teacher, Laura worships with a Quaker community, practices and co-leads Wisdom with Rock Point, and prays with healers grounded in ancient Taoist medicine in a Sufi tradition of mystical love. Laura became Community Program Coordination and Publishing staff at Northeast Wisdom in 2017, joining the Council later that year. She is dedicated to an embodied, practical Wisdom, awake and alive in our daily lives.
Laura lives in Vermont with her husband, near their sons and two grandchildren, blessed by animals, gardens, and weekly family dinners with four generations.
---
The 2017 Wisdom Council Vision Meeting at Holy Cross Monastery with former Council members Bill Redfield (President) and Guthrie Sayen (Council Vision Facilitator)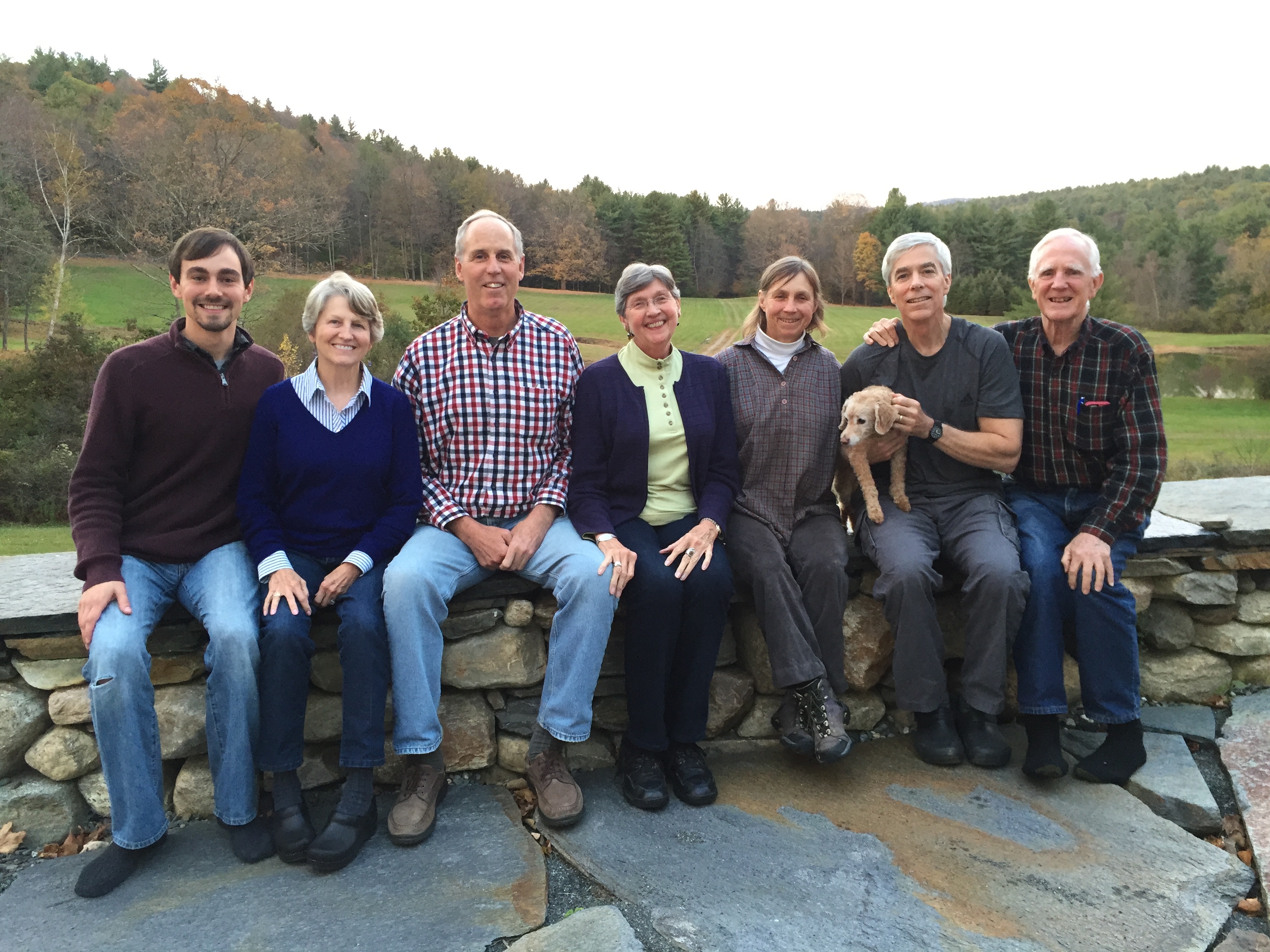 The original Northeast Wisdom Board of Directors, 2013-2016, from left to right: Matthew Wright (Secretary); Jean Smith; Alec Wiggen (Treasurer); Patricia Speak (President); Cynthia Bourgeault; Bill Redfield (Vice-President) and John Daly, seated on the stone porch at Hallelujah Farm, Chesterfield, NH.