Northeast Wisdom/Wisdom Waypoints has launched a two-year, four-book Foundational Wisdom Practice Book Circle Series that includes: The Wisdom Way of Knowing, Mystical Hope, The Wisdom Jesus, and Centering Prayer and Inner Awakening. These Wisdom books engage learners in the foundational teaching of our Wisdom lineage.
Wisdom Practice Book Circles are designed for seekers who want to cultivate a deeper connection with the Wisdom tradition which lies at the headwaters of all sacred paths. Ideal for newcomers to our Wisdom community and for those ready to 'go deeper in Wisdom', these Wisdom circles offer inspiration and practices for our awakening presence.
Each month these book circles offer:
Grounding in the practices of a Wisdom Circle
Supportive group discussions facilitated by seasoned Wisdom practitioners examining the readings in each foundational Wisdom text
Mindful attentional practices and Inner Tasks
Meditation and Chant
Body movements and sacred gesture
Circle Times: Each Wisdom book series is offered on one Tuesday a month at three different times for the convenience of participants. Select the time that suits your schedule when you RSVP: 10:00 – 11:30am ET, 1:00- 2:30 pm ET, or 7 – 8:30 pm ET. Many people are zooming in from different time zones and countries. All are welcome!
Contribute: There is typically a suggested donation (a one-time donation per book series) of $60 – $100 (or an amount that is sustainable for you), depending on the circle duration. Donation details are noted when you RSVP.
Past offerings
The Wisdom Way of Knowing Book Circle offered January 2020 – June 2020
Mystical Hope Book Circle offered September – November 2020
The Wisdom Jesus Book Circle offered January – May 2021
Future Offerings
Centering Prayer and Inner Awakening will be offered August – November 2021. To learn more, please visit the Event page.
Our two-year Foundational Wisdom Practice Book cycle begins anew in 2022 (registration will open about 2 months prior to start date)
The Wisdom Way of Knowing Book Circle will be offered January 2022 – June 2022
Mystical Hope Book Circle will be offered August 2022 – November 2022
The Wisdom Jesus Book Circle will be offered January – May 2023
Centering Prayer and Inner Awakening will be offered August – November 2023
Please consider joining us.
This eCourse includes over 40 sessions filmed live during a five-day Imaginal Wisdom School with Cynthia Bourgeault at the Valle Crucis Conference Center in North Carolina August 16-21, 2020. The Course materials have been formatted and organized for easy access and use in an eCourse format, while carefully preserving the daily rhythm and structure of the live event. The materials have been designed to empower and equip you with everything you need to reproduce the Wisdom School learning experience in your own setting and circumstances. And when you enroll in this eCourse you'll be joining a vibrant community of committed students as you experience the profound and practical nature of these teachings.

About the Imaginal Wisdom School eCourse
In this unique online learning opportunity, Cynthia Bourgeault illuminates the particular qualities and gifts of the Imaginal realm as an accessible world just beyond our own, and available to us for spiritual nurturance and exchange. Furthermore, as Cynthia emphatically states, "we are counted on for our uniquely human contribution to this exchange—a role contemporary humans have tragically lost sight of."
Drawing from her groundbreaking book EYE OF THE HEART: A Spiritual Journey into the Imaginal Realm, Cynthia outlines a cosmic map of nested worlds within a great multi-dimensional web. She provides key principles and practices for expanding our awareness and grounding our collective reality in this expansive perspective. Once attuned and opened to this understanding, we gain greater clarity for approaching both the challenges of our times, and for receiving the real and gracious assistance available to us all.
This course material was filmed at a small in-person Wisdom School at Valle Crucis retreat center in August 2020, which also included 100+ virtual students participating via Zoom.
No prior experience with Cynthia's Wisdom Schools is required. The course will be greatly enhanced if you have a copy of her book Eye of the Heart to accompany the video teachings.
Important to note: This eCourse has been created as an on-demand course, to use at your own pace and setting. You can refer to our 'Getting Started' session for some helpful tips and suggestions for engaging with the course content. Participants will receive unlimited access for one year to all course materials and resources including:
Course Videos & Audio (MP3) Recordings – Includes 43 teaching sessions with over 25 hours of content following the precise order and flow as the live Wisdom School event.
Additional Content – We have included references and supplemental content that supports the teaching sessions.
Private Facebook group for Imaginal Wisdom School participants. This closed group will provide a space for reflection and conversation, prompted by selected quotes and questions related to the course content.
Monthly hosted Zoom gatherings for course participants. You will be invited to join with others working with the course content, to share your experience and deepen your understanding.
COURSE OBJECTIVES
Cultivate an understanding and attentiveness to the Imaginal realm as an accessible dimension within a cosmic map of the worlds.
Practice the mostly lost art of imaginal exchange—i.e., the giving and receiving of spiritual nurturance for personal and planetary help and healing.
Understand how our human contribution is specific and obligatory, and how making that contribution brings greater equilibrium both inwardly and outwardly.
Build an embodied receptivity to the energies and gifts of the Imaginal.
Engage in Imaginal exchange to cultivate foundational "fruits of the spirit."
APPROACH AND STRUCTURE
Students will have 24/7 access to 43 video sessions and downloadable audio, that follow the outline and rhythm of an on-the-ground Wisdom School. The course content includes:
An introduction to some foundational practices as outlined in Gurdjieff: Mysticism, Contemplation, and Exercises by Joseph Azize that support Imaginal exchange and causality.
Daily contemplative and embodiment practices.
Teaching sessions by Cynthia outlining key concepts and principles of the Imaginal realm, and how we can attune to the gifts and support it avails to us.
Daily inner work practices.
Recorded questions and answer sessions with Cynthia.
"Wisdom Schools are a format for integral learning that's based in some of the deepest roots for transformation and change in the Christian tradition. Wisdom schools are about awakening the yearning for a different kind of presence in the world and then developing the skills and the knowledge base to apply that, to transform your own life and the life of people around you."
— Cynthia Bourgeault, Principal Teacher
Whether you plan to use the eCourse materials for self-paced study on your own, or arrange to participate within a self-organized group, we're certain you'll find this a valuable, gratifying, and transformative process.
PRICE: $137 for Single-user access
We ask that you do not share your sign-in information with others; we have priced the course as affordably as we can (a percentage of every sale goes directly to Cynthia to support her in her ministry). Please don't use these materials with groups of any size without group registration. To ask about financial assistance and group registration arrangements, please email robbin@wisdomwayofknowing.org.
Cynthia Bourgeault's new book Mystical Courage: Commentaries on Selected Contemplative Exercises by G. I. Gurdjieff, as Compiled by Joseph Azize is available for purchase. This collection of six G.I. Gurdjieff exercises from Joseph Azize's book Gurdjieff: Mysticism, Contemplation, and Exercises illuminated by Cynthia's own commentaries for, in her words, "a broader spiritual audience…connecting the dots between the familiar world of Christian contemplation and the brave new world of Gurdjieffian metaphysics and nomenclature…" (pg. xi).
We Invite You to Order Your Copy Here
Cynthia worked these six exercises herself, with a small group of friends who have decades in the work, before bringing them to the larger Wisdom community for our collective work together—a suggested "pandemic homework" specifically gathered for these times.
In her introduction Cynthia speaks about the step in the Gurdjieff work that takes us beyond the pause and adaptations necessitated by the pandemic. She speaks about the opportunity when stopped in our tracks to lean "into the awkwardness of that 'caught-in-the-act' exposure to explore one's own repertory of habitual postures and attitudes that are somehow complicit in this mess" (pg. vii). How to enter into these times without "sidestepping" a "self-reckoning that might bear within it the seeds of genuine remorse and a new beginning?" (pg. viii).
These exercises provide what Cynthia calls the "missing link" to that end. That we may learn to sense, feel and think ourselves from an embodied state, grounded in our three centers, growing our capacity to be present "to higher faculties of perception embedded but not yet activated within us"—a perception that allows us to experience the "assistance coming towards us from the worlds beyond our own" (pg. xi). That we may practice towards building a body that knows how to ground in sensation and direct our conscious attention in order to "sustain the vision and connection we humans so desperately yearn for" (pg. ix).
Cynthia speaks about her own process in the introduction, finding the way toward a series of exercises that, in its entrainment with the Four Ideals exercise, "has deep healing potential for our planet exactly where it is pinned right now" (pg. xii). And she is careful to note that these are only six of more than forty Gurdjieff exercises collected in Azize's book; exercises that were often given a single practice at a time, to specific people in particular circumstances, for their personal inner work. This is a collaboration, in that Joseph Azize has allowed the basic text of these six exercises to be reprinted here. And, Cynthia stresses, for more of his extensive research, and best use of her commentaries collected in the new Mystical Courage—his book Gurdjieff: Mysticism, Contemplation, and Exercises is a considerable aid.
Cynthia adds that, in the spirit of guidance toward the exercise that is yours right now to practice, allow "yourself to be drawn to the exercise(s) that most deeply speak to you" (pg. xiii). Through conversation with a number of practitioners who took part in the "pandemic homework," and from my own work with these exercises, it is clear that many folks found a way into these in our own time and through each our own particular route, trusting that which is speaking in our hearts about the course and timing of our own practice—in yet another exercise of inner listening to what truly works in each of our spiritual lives in practice right now.
Your own sense of what works for you will be the starting point with these exercises, and if you choose to dive into them for the first time, or continue your work with them, you will be contributing to the matrix or web of our collective practice. As we grow together in these practices something is given for the whole. Beautifully summarized on the back cover of Mystical Courage:
Cynthia invited members of her Wisdom School Community to join her in a rigorous practice with six of these exercises. What emerged…was a remarkable series of revelations and reflections encompassing not only the Gurdjieff tradition but her own deep insights into the Christian mystical and Wisdom traditions, together with sagacious tips on practice and a prophetic vision of a post-pandemic future.
The fruit of that alchemy—presented here—is a profoundly renewed vision of Mystical Courage, a hope and strength emerging from beyond our own making that is available right now to guide our way.
To order the book, please follow this link to Amazon.
Images from the top: Mystical Courage book cover, design by Wisdom friend and Wisdom Waypoints logo creator Andrew Breitenberg; dew on Spider Web in Selective Focus, public domain courtesy of Snappy Goat and Pixabay.
All of nature with its forms and creatures exist together and are interwoven with each other. They will be resolved back to their own proper origin, for the compositions of matter return to the original roots of their nature.
Those who have ears, let them hear this.
---
Everyone who begins to study and know their own states is well aware that our experience is a constant dying and rebirth. We must not be frightened as we come to see this, although it really is a terrifying thing that we have no power to keep hold of our own life; that it has to be renewed or given back to us by something that does not come from ourselves.
But even when we do see the helplessness with which we fall into oblivion, at that moment when we are most trying to hold onto ourselves, we must learn to trust that there is something that calls us back, and will call us back. And if it calls us back from sleep at night, it will call us back from that other sleep into which we shall enter, the sleep of death.
---
We awaken in Christ's body
as Christ awakens our bodies,
and my poor hand is Christ, He enters
my foot, and is infinitely me.
I move my hand, and wonderfully
my hand becomes Christ, becomes all of Him
(for God is indivisibly
whole, seamless in His Godhood).
I move my foot, and at once
He appears like a flash of lightning.
Do my words seem blasphemous? — Then
open your heart to Him
And let yourself receive the one
who is opening to you so deeply.
For if we genuinely love Him,
we wake up inside Christ's body
where all our body, all over,
every most hidden part of it,
is realized in joy as Him,
and He makes us, utterly, real.
And everything that is hurt, everything
that seemed to us dark, harsh, shameful,
maimed, ugly, irreparably
damaged, is in Him transformed
and recognized as whole, as lovely,
and radiant in His light.
We awaken as the Beloved
in every last part of our body.
---
Every cell of this body sings Glory
---
Unnameable God,
I feel you with me at every moment.
You are my food, my drink, my sunlight and the air I breathe. You are the ground I have built on and the beauty that rejoices my heart. I give thanks to you at all times for lifting me from my confusion, for teaching me in the dark and showing me the path of life.
I have come to the center of the universe:
I rest in your perfect love.
In your presence there is fullness of joy and blessedness forever and ever.
---
Yeshua says…
Whoever drinks what flows from my mouth
will come to be as I am
and I also will come to be as they are,
so that what is hidden will become manifest.
---
This is a kind of sacred alchemy. As we practice in daily life—in our acts of compassion, kindness, and self-emptying, both at the level of our doing and even more at the level of our being—something is catalyzed.
Subtle qualities of divine love essential to the well-being of this planet are released through our actions and flow out into the world as miracle, healing, and hope.
This is the path that Jesus taught and walked, the path he calls us to.
---
The Blessed One addressed them:
Peace be with you. May my peace reside within you. Guard carefully that no one misleads you saying, "Look, he is here,' or 'he's over there,' for the Son of Humanity already exists within you. Follow him, for those who seek him there will find him.
Keep within.
And when they say, 'Look here or look there is Christ,
go not forth, for Christ is within you.
And those who try to draw your minds away
from the teaching inside you, are opposed to Christ
For the measure's within, and the light of God is within,
and the pearl is within you, though hidden.
---
For where the heart is, there is the treasure.
I was a hidden treasure and I longed to be known.
And so I created the worlds, seen and unseen.
---
Words and Images from the top:
The Resurrection, copyright 2013 by artist Janet McKenzie, photo courtesy of Laura Ruth;
All of nature with its forms and creatures…from the Gospel of Mary Magdalene, courtesy The Meaning of Mary Magdalene by Cynthia Bourgeault;
Resurrection, excerpt from a Sunday talk by J. G. Bennett at Coombe Springs on May 16, 1963, courtesy of Cynthia Bourgeault;
Easter Vigil, Hallelujah Farm, photo courtesy of Laura Ruth;
Easter morning: the linens at the tomb, Hallelujah Farm, photo courtesy of Adwoa Lewis-Wilson;
We Awaken in Christ's Body, Symeon the New Theologian, Cynthia says: This beautiful poem originally came as a handout from the Rev. Curtis Almquist, SSJE, during a clergy conference in Aspen, Colorado, May 1997, courtesy of the Holy Week Liturgies by Cynthia Bourgeault with Ward Bauman and Darlene Franz;
miracles around us, image courtesy of Roma Kaiuk, Unsplash;
Every cell of this body sings Glory, Wisdom chant, origin unknown;
Unnamable God, I feel you with me… from Psalm 16, Stephen Mitchell translation;
Holy Saturday on Martin's Brook, I, photo courtesy of Laura Ruth;
Whoever drinks what flows from my mouth… Gospel of Thomas Logion 108;
Holy Saturday on Martin's Brook, II photo courtesy of Laura Ruth;
This is a kind of sacred alchemy… adapted from The Wisdom Jesus Cynthia Bourgeault;
The Blessed One addressed them… from the Gospel of Mary Magdalene, The Meaning of Mary Magdalene by Cynthia Bourgeault;
Keep Within, chant by Paulette Meier based on George Fox, Epistle, #19 , Works 7:27;
For where the heart is… from the Gospel of Mary Magdalene, The Meaning of Mary Magdalene by Cynthia Bourgeault;
There is an Egg Waiting on the Line Between March and April, watercolor courtesy of Laura Ruth;
I was a hidden treasure… one of many translations, attributed to the Hadith al-Qudsi.
We see that at Christ's death the whole world entered upon a cosmic spring the harvest of which will be the remaking of our universes in newness and splendor. At the moment of Christ's death the veil in the temple was rent in two from top to bottom, the veil that hung before the Holy of Holies. The veil of the temple represented the whole universe as it stands between God and man. At the moment when Christ's act of redemption is consummated, the whole cosmos opens itself to the Godhead, bursts open for God like a flowerbud. The universe is no longer what it was before.
The Son of God tore open the whole world and made it transparent to God's light. The transformation of the world is even now a reality.
---
Christ Is,
Christ Is
The Heart of the Heart of the world,
the Heart of the Heart of the world
Draw us deeper,
draw us deeper.
Jesus was just sitting there—surrounded by the deepest, most alienated, most constricted state of pained consciousness: sitting, if we can imagine it, among all those faces of the collective false self, sitting there in the midst of all this, not judging, not fixing; just letting it be in love. And in so doing, he was allowing love to go deeper, pressing all the way to the innermost ground out of which the opposites arise and holding that to the light. A quiet, harmonizing love was infiltrating even the deepest shadows, in a way that didn't override them or cancel them, but gently reconnected them to the whole, holding all things in love's embrace and in such a way that released them from the grip of duality. In that ultimate letting be, he transformed them into sacred vessels of divine love. This is the mystical meaning of the great Pauline statement:
In him all things hold together (Col. 1:17).
---
For you yourself created my inmost parts;
you knit me together in my mother's womb.
My body was not hidden from you,
while I was being made in secret
and woven in the depths of the earth…
Search me, Lord; test me
to the depths of my inmost heart.
Root out all selfishness from me
and lead me in eternal life.
In the contemplative journey, as we swim down into those deeper waters toward the wellsprings of hope…the hidden spring of mercy deep within us is released in that touch and flows out from the center…In plumbing deeply the hidden rootedness of the whole where all things are held together in the mercy, we are released from the grip of personal fear and set free to minister with skillful means and true compassion to a world desperately in need of reconnection.
---
Because once someone dared
to want you,
I know that we, too, may want you.
When gold is in the mountain
and we've ravaged the depths
till we've given up digging,
it will be brought forth into day
by the river that mines
the silences of stone.
Even when we don't desire it,
God is ripening.
---
I will not leave you orphaned;
I am coming to you.
John 14:18
---
Words and Images from the top:
The Dove, No. 1, Hilma af Klint, 1915, courtesy of Rhododendrites, public domain via Wikimedia Commons;
We see that at Christ's death…quote compiled from The Mystery of Death by Ladislaus Boros (pg. 150);
Christ Is…chant by Susan Latimer who says about it: This chant came to me on May 1, Teilhard's birthday, as I prepared to go to a wisdom school on Teilhard at Valle Crucis. I had been struck by words that he wrote on the back of a prayer card with the Sacred Heart of Jesus: "(Christ is the) Heart of the worlds Heart". This card was found on his bedside table after his death on an Easter morning. Cynthia offers that the drone, "Christ Is" represents the Geosphere; the Biosphere is represented by "the Heart of the Heart of the world"; the noosphere by "draw us deeper;"
The Heart of the Earth: Descent, Tether, Ascent charcoal pencil on gray paper, courtesy of Laura Ruth;
Jesus was just sitting there…ending with Col. 1:17 "In him all things hold together." Compiled from The Wisdom Jesus: Transforming Heart and Mind—A New Perspective on Christ and His Message by Cynthia Bourgeault (pg. 113);
While I was Being Made in Secret, Woven in the Depths of Earth, watercolor on gray paper, courtesy of Laura Ruth;
For you yourself created my inmost parts; from Psalm 139 (second stanza Stephen Mitchell translation);
In the contemplative journey…from Mystical Hope: Trusting in the Mercy of God by Cynthia Bourgeault (pg. 98);
Because once someone dared to want you, poem by Rainer Maria Rilke, Book of Hours, translation by Mark Burrows;
Celtic Roots, mandala by Barbara Miller;
I will not leave you orphaned…Holy Bible, New Revised Standard Version (NRSV), John 14:18.
In stillness nailed
to hold all time, all change, all circumstance
in and to love's embrace
---
Beloved One, creation longs to be held
in the great hands of your heart;
O let us know this now.
Into them we place these fragments, our lives,
that you may do with them as you wish.
Into them we also place this unconscious broken world.
We know that in You all will be well,
and all manner of thing shall be well.
Amen.
---
First Apostle
Now his body writhes in pain:
once it was my delight, now it is my sorrow.
Blood drains from arms that held me close,
now they are fixed and life has fled from flesh and bone.
As we take him from wood to earth,
all is silent, empty—
passion surrenders to another love
that is not here
or there
but rides the breath of a greater mystery
confounding
the finite corpus
of my desires.
No longer the object of my affections,
he has become the subject of my truth.
The memory of his love no longer clings
to the skin of my life.
He has dissolved
the mirage of separation
and pours the pure wine of
his presence into the waiting
chalice of my heart.
~by Robert T. Pynn
---
Where can I go from your spirit, where flee away from your presence?
If I climb up to heaven you are there; if I lie down in hell, you are there;
If I say, "Surely the darkness will hide me, and the light around me turn to night,"
Darkness is not dark to you; the night shines as clear as the day;
darkness and light to you are both alike
---
Words and images from the top:
Thunderous Clouds, courtesy of author Chandler Cruttenden, Unsplash;
In stillness nailed…The Sisters of the Love of God, Oxford, England, courtesy of Holy Week Liturgies, by Cynthia Bourgeault with Ward Bauman and Darlene Franz;
Blue Abstraction by Georgia O'Keefe, courtesy of the Museum of Modern Art, NY, NY © 2021 The Georgia O'Keeffe Foundation / Artists Rights Society (ARS), New York;
Beloved One, creation longs…Intercessory Prayers, courtesy of Holy Week Liturgies, by Cynthia Bourgeault with Ward Bauman and Darlene Franz;
First Apostle, poem by Robert T. Pynn, courtesy of Cynthia Bourgeault's The Meaning of Mary Magdalene: Discovering the Woman at the Heart of Christianity, pgs. 103-104;
Pieta, Giovanni Battista Naldini, courtesy of wikimedia commons public domain;
Where can I go…from Psalm 139, courtesy of Holy Week Liturgies, by Cynthia Bourgeault with Ward Bauman and Darlene Franz;
Untitled, Hilma af Klint, watercolor on paper, 1941, photo image courtesy of Laura Ruth, Solomon R. Guggenheim Museum exhibit Hilma af Klint: Paintings for the Future.
Take Off Your Shoes
~ by Adwoa Lewis-Wilson
Take off your shoes,
In fact, remove all your coverings –
The cloak of achievement, adornments of knowledge,
Every false veil of 'self'.
For the place you stand is holy ground.
Here is where I will burn away all that is not real.
Here is where you remain aflame with my Spirit's fire.
Take off your shoes,
Yes, all your coverings.
For here you have found the baptismal fount.
You may not enter this sanctuary other than naked,
Vulnerable
Exposed.
Available.
Then will I wash you and you will find your part with me.
Then clean and pure, will you abide as a beacon of my Light.
Like the bush you will not be consumed.
For this soul of yours is holy ground.
And see? You will not, naked, drown.
For by my presence, from your very soul
Has flowed springs of living water.
Bare yourself and come near.
In your soul you will find me:
A fire's power,
A cleansing stream.
A perfect refuge,
An endless union,
A boundless bliss,
Unknowable Revelation, Unshakable Peace.
Here I wait, for you to arrive,
But first you must take off your shoes.
Image at the top: Head of Christ, by Georges Rouault, 1937, courtesy of the Cleveland Museum of Art: © Artists Rights Society (ARS), New York / ADAGP, Paris; Footwashing image origin unknown, collected with images from the Ethiopian Orthodox Tewahedo Church
Dear Friends of Northeast Wisdom / and the new! Wisdom Waypoints,
We want to express our heart-felt thanks to each of you who has contributed to our annual fundraising campaign. Your support means the world to us, and we appreciate whatever amount you have been able to give.
We got off to an earlier start with our annual fundraising campaign this year, and it is going well. If you haven't had a chance yet to make your gift, please consider doing it now. Every contribution, in any amount, further serves the Wisdom Community.
If you missed the messages below from Cynthia, Marcella and Matthew, take a look now. We are grateful for your generosity, and honor our partnership in Wisdom together.
As we step into the season of Advent we wish you all deep peace in the stillness and the quiet promise of what is gestating within.
---
The 2020 Annual Fundraising Campaign:
Your Generosity, Making a Difference
Dear Wisdom Friends,
Once again it's that time of the year when I have the privilege of inviting you to renew your financial support for Northeast Wisdom.
Despite or because of the pandemic licking at our heels, your Wisdom Council has had a highly productive year, one of our best ever. As online teaching became "the new normal," Council members Matthew Wright, Marcella Kraybill-Greggo, and Bill Redfield stepped up to the plate with a rich offering a of Zoom study groups and retreats. And of course, out there in the field, many of you were doing likewise in this time of planetary "pause and reset." Hearty thanks to every one of you who have been holding down the post. It has made a difference.
This year we went back to the drawing boards, literally. In recognition of the growingly international character of our network (which now stretches from New Zealand to the Yukon) and the need to share resources more effectively and with an enhanced online outreach, Bob Sabath and Laura Ruth headed up a task force (also including myself and designer Andrew Breitenberg) to lay the groundwork for a major overhaul of our Northeast Wisdom website, improving its functionality as well as reflecting its increasingly international mission field.
You will see these changes rolled out in 2021, including a new logo and even a new name as Northeast Wisdom will shortly become "Wisdom Waypoints." In GPS navigation, a waypoint is a specific location en route to your final destination. Once programmed into your computer, it allows you to check your position, mark your progress, and stay on course as you journey forward. Aside from the synchronicity of being available as a domain name, it also seemed like a lovely way to picture the work we are collectively about. Imagine our globe encircled by a network of wisdom waypoints, each providing bearing checks and collectively keeping the ship on course as our planet journeys along its imaginal trajectory. Here is a sneak peek at the new logo:
We are hopeful that these changes will be implemented in early 2021—and that these changes will result not only in a new look but a determined commitment to increased collaboration and resource sharing among the various waypoints. Efforts in that direction are already solidly underway, as we explore an even closer partnership with The Contemplative Society in British Columbia, the original flagship in our Wisdom flotilla. This is certainly among the most rewarding accomplishments of this 2020 calendar year.
My own year has been quiet, but similarly productive as I used the planetary "time out" to complete several writing projects. My new book, Eye of The Heart, made its appearance just this past September. And in the upcoming year Monkfish Publications will be publishing (under the title Mystical Courage) the blog series I shared with the Wisdom community on the Northeast Wisdom website during the height of the pandemic lockdown.
Meanwhile, I have been venturing back into on-the-ground teaching, which I still find to be my appointed post as we step slowly out of lockdown mode and prepare both inwardly and outwardly for a longer term journey with COVID in our midst. Check the NEW calendar for remaining offerings in 2020 and the 2021 docket as the pieces gradually fall into place. It would be a blessing beyond blessing to see you all again face to face.
Amid all this solid activity, the year also brought a bittersweet transition as Bill Redfield announced his retirement from our Wisdom Council to carve out more time for his own rapidly growing online teaching presence. His work is clearly meeting a huge need, and I rejoice for his servant's heart even as I will miss his gracious and generous presence close at hand. Godspeed, Bill! Your spirit and soul are indelibly stamped into the very marrow of this little organization, which you midwifed so beautifully. And welcome aboard, Marcella and Matthew, who will share leadership of the Council as we move forward, collectively, into whatever the future holds in store.
Thank you, all of you, for your generosity. Collectively, we are making a difference in our planet.
With love and gratitude,
Cynthia
---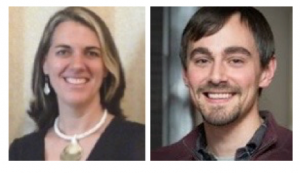 Matthew and I (Marcella) want to add a note to say how excited and honored we both feel to be elected to serve as a Co-chairs of Northeast Wisdom/Wisdom Waypoints during this deepening/focusing/birthing year. This past year Northeast Wisdom has sought to support the spiritual nourishment that people have been craving through this extraordinary time, gathering to practice and study together, with often increased vulnerability and trust, reckonings and openings. It feels, as Laura Ruth aptly stated in a recent Council gathering, that we are on a threshold, a precipice of NEW things.
We have been amazed and grateful for the community response to our two Wisdom Book Practice Circles, which together engaged almost 200 participants. Additionally, being present together six times a week throughout this pandemic via our virtual Wisdom Centering Prayer sits has brought new ways of steadying and offering heart connecting with each other and with our beloved world. Those of you 'stepping into post holding' for these Wisdom sits expand our Wisdom presence and interconnection. Having Jeanine Siler Jones join our Wisdom Council this past year has also added new breadth and steadiness to this vision.
Serving our Wisdom Collective is our mission and passion, and if you have been touched by these offerings and have benefited from the sense of connection and formation offered through this Wisdom work we invite you to partner with us in helping to continue 'manifesting Wisdom in our world.' For those who can make a donation of $150 or more, a copy of Cynthia's latest book, Eye of the Heart, will be sent as our gift to you. We invite each of you to join with us in midwifing Wisdom—in your own community, through prayer and our shared intention, and through a financial gift of any size. We are deeply grateful for your financial support that helps us continue Wisdom's manifestation in new and exciting ways.
We have so much love and gratitude for all of you in our Wisdom community, and we look forward to our collective synergy in the year to come!
Marcella & Matthew
---
Northeast Wisdom is committed to supporting the Wisdom Community across the country and around the world, and its fount of 'new arisings' in the Wisdom lineage of Cynthia Bourgeault. With your generosity and support, Northeast Wisdom hopes to "bear the good new wine of Wisdom to a parched and bewildered world."
In appreciation for your gift of $150 or more, we would like to send you a copy of Cynthia's latest book: Eye of The Heart: A Spiritual Journey into the Imaginal Realm.
Join us, with your contribution, in the amount that is sustainable to you.Every gift is received as a gift from the heart, growing the community and furthering the work of Wisdom in the world.
Thank you!