As Northeast Wisdom Becomes Wisdom Waypoints in 2021:
Your Generosity, Making a Difference
---
A letter from Cynthia and the Wisdom Waypoints Council …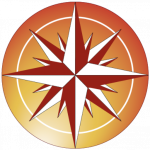 Wisdom Waypoints began as pure gift. In 2012 charter Wisdom student Helen Daly, bravely facing her impending death from cancer, left a generous bequest that launched our tiny New England Wisdom hub (then known as "Northeast Wisdom") as a physical and spiritual presence. Her husband John Daly offered their meticulously restored New England farmhouse as our first gathering place, and Hallelujah Farm became our Wisdom headquarters for those formative years of our collective Wisdom journey.
By 2018 Wisdom was overspilling its New England boundaries, as graduates of our first Wisdom Leadership Training School (hosted by Wisdom students in North Carolina!) took the teaching to all four corners of North America. Joining hearts and visions with other regional Wisdom hubs in the American southwest and northwest—and with our original Wisdom flagship, The Contemplative Society in British Columbia— we emerged as Wisdom Waypoints, an international Imaginal network. A "God-Positioning-System," as Sufi teacher Kabir Helminski likes to refer to it.
We have never been over-concerned about formal fundraising. "Giving-is-receiving" is a very sturdy bandwidth for Wisdom work, and our members have responded with amazingly outpouring hearts. We are deeply grateful to a few major benefactors who have brilliantly lifted our wings. Most of our ongoing operational funds, however come from folks of relatively modest means who support the work with spontaneous generosity because they recognize it as a spiritual lifeline, not only for their own personal work but for our entire planet.
Your donations keep our website and tiny office staff operational: a vital communications line appreciated by so many! In addition, they serve to support retreats—particularly smaller retreats of a pilot or experimental nature that would not otherwise be viable. They provide scholarships for younger wisdom students and others with less disposable income, stipends for emerging teachers, and project support for community development and online learning initiatives. They keep us actively linked with one another and with the resources coming to us from the greater Wisdom stream.
But there are additional ways to contribute as well, even if funds are a bit threadbare at the moment. Wisdom Community members also support the work with their time and their talent. They lead practice circles, join in forum discussions, facilitate online study and practice groups, and take their turn at the helm offering weekly chants, quotes to ponder, and inner tasks on our Wisdom Community Facebook page. All contributions make a difference. There are no formal requirements—financial or otherwise— for membership; your heart will tell you how to belong.
If you like what you've been reading on these web pages, by all means join in! Become more deeply involved. To sign up for regular email updates, learn more about financial giving, or learn more about how you can become actively involved, use the email link below. To donate, just click the big red button.
---
With deepest thanks, as we all work together to be a force for good in our world,
from all of us on the Wisdom Waypoints Council
Thank you!
The October 2020 Northeast Wisdom—soon to be Wisdom Waypoints—Council
Clockwise from top left: Marcella Kraybill-Greggo (Co-Chairperson); Cynthia Bourgeault; Matthew Wright (Co-Chairperson), Laura Ruth; Bob Sabath; Jeanine Siler Jones; and Mary Ellen Jernigan (Treasurer)